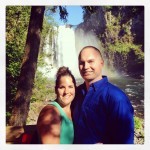 I'm Peter Ross, ​CEO and General Manager of Archimedes Machining Inc.  But first and foremost, I am a husband and father to all my children.  Behind every good company is a good family.  Every family looks different by mine consist of my Caring wife 9 children, Father & Mother as well as my brother who is currently training to be a pilot.
I currently personally oversee the development of our courses for the Training program, Developing and Designing Experimental firearms, Load development for our line of ammunition, and building Custom Rifles​.  ​
I have been in the firearms and instructing business since 2006 and have watched the many changes in instruction as well as firearms technology.  I pride myself on not just chasing the newest trend of the yea.  I instead watch them develop, test them, and if they work implement them into my firearms, ammunition, or instruction.
Our licensing allows us not only to sell firearms but build everything from 22 ammunition to 50 BMG then turn around and build those same firearms in a single shot to belt-fed firearms and when the application warrants it, we can
even produce a custom suppressor for the system.
Have been in the industry since 1996 we know a great deal about the industry.  No one person knows everything but as a group, we can find that answer.  That is why many license holders contact us for Licensing questions, Firearms repairs, Security consulting, and general industry knowledge.
My network of Gunsmiths have a combined knowledge and expertise of more than 50 years, we are able to provide a better product to our customers whether it be through repairs or custom builds.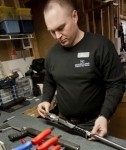 My instructors come from LE, Military, Hunting, and the competition circuit.  This makes our training program the best in its class.


 List of license and degrees
1996 – Graduated Kentridge High Shool
Jan. 3rd 1997 Graduated United States Marne Corps boot Camp
December 1999 Graduated from Green River Community College (AA)
December 2001 Graduated from Central Washington University (BA)
2003 Graduated Washington State Police academy (Top Shooter)
2007 Washington State Handgun instructor
2007 Taser International instructor
2008 Washington State Patrol Rifle instructor
2008 Glock Armorers course
2009 Basic Gunsmithing course
2010 Colt AR Armorers course
2010 Machining course Central Washington University
2013 AK Armorers course
2014 AGI Cowboy action course
2015 NTOA Active shooter instructor
2017 WASTOA SWAT School
2018 Sniper school
2019 Masters in Busines Administration
Shooting tips
 Pictures of some of my work
Custom Rifles
50 BMG
338 Lapua
308
300 Win Mag
6.5 Grendel
Production AR-15's
Patrol ready from 2013 – This is just one of the many AR-15's I have
designed.  This particular AR was designed for home defense and any kind of defensive or offensive work.
Hunter series – I designed this AR for my wife so that she would have a full-size hunting caliber rifle without all the recoil of a traditional hunting rifle.  I chose the 6.5 Grendel because they fit into the lightweight small frame AR-15.  The powerful 6.5 Grendel has enough energy to safely take nearly any big game in the northwest.